Hostage situation at Texas synagogue, SWAT deployed
A suspected gunman has taken hostages at the Beth Israel synagogue in Colleyville, Texas on Saturday. SWAT officers have been deployed to the evacuated area. Read Full Article at RT.com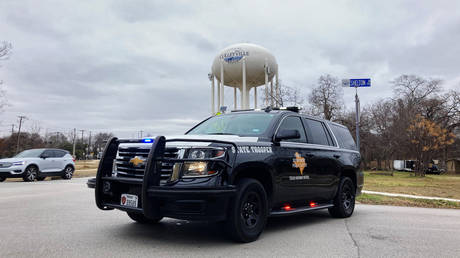 Assailant's actions and negotiations with police were partly livestreamed on Facebook
A suspected gunman has taken hostages at the Beth Israel synagogue in Colleyville, Texas on Saturday. SWAT officers have been deployed to the evacuated area.
Shortly after arriving, officers entered into the negotiations with the suspect seeking the release of a rabbi and three other individuals believed to be inside the synagogue. One of the hostages - a man- was subsequently released at around 6 p.m. local time. The relased hostage was unhurt in the incident, police said.
Audio of the assailant speaking to police could be heard on a Facebook livestream. The audio is not clear, but local media reported the man saying he supposedly does not want to hurt anyone, while reportedly mentioning his sister and Islam.
At another point, however, the suspect did threaten that all the hostages would die if anyone entered the building. "I'm going to die. Don't cry for me," he could be heard saying, shortly before the livestream was cut.
UPDATE 1/15/22, 2:20 PM The situation at the 6100 block of Pleasant Run Road posted about earlier remains ongoing. We ask that you continue to avoid the area. We will continue to provide updates via social media.

— Colleyville Police (@ColleyvillePD) January 15, 2022
According to one Twitter thread from reporter Arieh Kovler, the suspect asked to speak to his sister during the livestream, referred to his "six beautiful children" and alleged that he was homeless. He was said to be still negotiating with police when the feed ended.
If one group is not free to worship then no one is. Praying for a peaceful outcome to the Congregation Beth Israel siege in #Colleyville. I have faith in my brothers and sisters in blue to get it done. pic.twitter.com/ywPQ655kPs

— Chief Ken Berkowitz (@ChiefBerkowitz) January 15, 2022
Colleyville Police Sgt. Dara Nelson told Dallas News, that negotiators hope to bring the situation to a "safe resolution." 
While it's unclear if the man has any weapons on him, ABC News reported citing a source close to the investigation that he claimed to have planted bombs in several locations. The identity of the hostage taker is not known. Multiple US media reported, however, that the suspect told police that he was a "brother" of Aafia Siddiqui, a Pakistani neuroscientist who is serving an 86-sentence in the US "for the attempted murder and assault of U.S. nationals and U.S. officers and employees in Afghanistan" in 2010.
A lawyer for Muhammad Siddiqui, Aafia Siddiqui's biological brother, told the Daily Beast on Saturday that his client was not in the synagogue, however.
Read more

Texas synagogue suspect linked to 'Lady Al-Qaeda'
There has been an ongoing public campaign in Pakistan for the woman's return back home. Incumbent Pakistani Prime Minister Imran Khan included securing Siddiqui's release in his party election manifesto in 2018. "We make best efforts to bring prisoners like Dr Aafia Siddiqui and others back to Pakistan," he stated at the time.
According to the synagogue's calendar, their Shabbat service began at 10am on Saturday.
The FBI and state Department of Public Safety are also involved in the police response, according to Nelson.